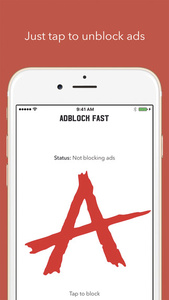 Just days after it was launched, Samsung's Android ad blocking app Adblock Fast has been removed from the Google Play Store.
The plug-in came from startup developer Rocketship Apps, and worked within Samsung's pre-installed mobile browser.
Google shut out the app for violations of the Developer Distribution Agreement, namely section 4.4. 4.4 states that apps and plugins cannot "interfere or disrupt devices, networks, or services of third parties."
Reads the email the company received:
Hi Developers at Rocketship Apps,
I reviewed Adblock Fast, com.rocketshipapps.adblockfast, and found that it violates section 4.4 of the Developer Distribution Agreement. This particular app has been disabled as a policy strike.
Just as a reminder, you've agreed to follow the Google Play Developer Program Policies and additional enforcement could occur if there are further policy issues with your apps.
If you've reviewed the policies and feel this rejection may have been in error, please reach out to our policy support team. One of my colleagues will get back to you within 2 business days.
I appreciate your support of Google Play!
Source:
Verge