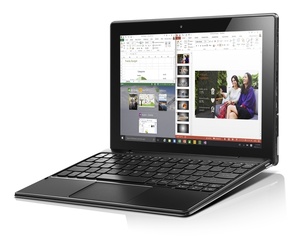 Lenovo has introduced a new, highly affordable tablet running Windows 10.
The MIIX 310 has a 10.1-inch 1080p display and runs on an Intel Atom X5 processor with integrated graphics. Additionally, it is a 2-in-1, meaning there's a detachable keyboard that gives the device a more "notebook" feel for productivity.
Priced at $229 with the keyboard, the rest of the specs are predictably mid-range. There are 2GB RAM, 802.11b/g/n wireless, and 128GB internal storage.
Lenovo will begin shipping the devices in June.
Source:
PCW