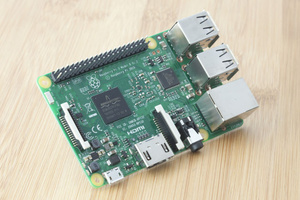 The Raspberry Pi 3 is now available for sale, and the upgraded micro PC is still just $35.
Model B of the Raspberry Pi 3 now has a quad-core 1.2GHz 64-bit ARM Cortex A53 and embedded Wi-Fi and Bluetooth, a massive upgrade from previous models that required USB adapters for the connectivity. The new PC supports 802.11n Wi-Fi (2.4GHz only) and Bluetooth 4.0.
The device is available now via Element14, Think Allied, and RS Components, the usual retailers for the PCs.
Raspberry Pi creator Eben Upton says the new model should run 50 percent faster and more efficiently than previous models.
"The main reason we're excited about Cortex A53 is it's a better 32-bit processor [than A7]. You can run in 32-bit mode,"
Upton said.
Additionally, the Pi has 1GB RAM and a new Broadcom 400MHz VideoCore IV that will support 1080p video at 60fps.
Source:
Ars