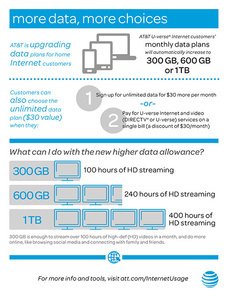 AT&T has announced this week that it will increase monthly data caps for its U-verse home broadband service, including adding a new unlimited tier.
The first tier, which includes users who pay for speeds that vary from .8Mbps to 6Mbps, will now get 300 GB per month, up from 250 GB per month. On the opposite end, those that pay for 100Mbps+ will now get a 1TB cap, double the previous limit. For an additional $30 per month, you can have unlimited data.
AT&T is one of a few companies to implement data caps for home broadband service (thankfully) and the new unlimited option is incredibly overpriced but some rural users have no other options, which is a shame.
The new plans will go into effect on May 23rd.
Source:
AT&T