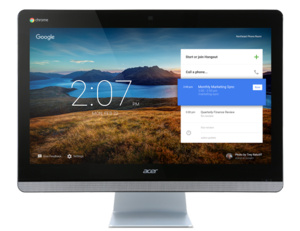 Google has launched a new Chrome OS-based all-in-one, the Chromebase, for businesses in need of secure video conferencing in smaller meeting areas.
The company says the Chromebase is a
"secure, self updating, easy to manage unit that builds on Chrome and WebRTC innovations for sharper video, audio and screen sharing. Guest account support makes it simple to join a meeting even without a Google account: Just click a meeting link invitation and you're connected."
Chromebase has a 24-inch adjustable touchscreen display, an integrated, adjustable HD camera, 4 microphones and 2 stereo speakers on the hardware end. On the software side, Google has announced "new features to our remote fleet management tools. Administrators can receive alert notifications and track health of their fleet of Chrome devices for meetings. They can remotely diagnose and troubleshoot audio, video quality and bandwidth problems. Administrators can also customize the interface using their own background images."
Chromebase for meetings is available for $799 in the US, Canada, UK, Ireland and Australia and it comes with a free year of management and support fees.
Source:
Google Chromebase