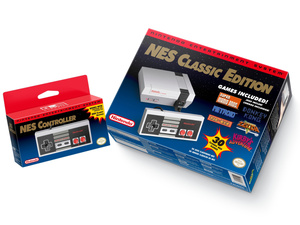 Nintendo has delighted fans by announcing a "mini replica" of their original NES console, a new version of the classic console that will come with 30 games built-in.
Launching on November 11th for just $59.99, the console will be smaller than the original and include an HDMI port making it compatible with all current generation HDTVs.
A few of the more popular games included with the new console are Super Mario Bros. 1, 2 and 3, The Legend Of Zelda, Punch Out, Final Fantasy and Donkey Kong.
If you want to play some old-school multiplayer, you can buy a second NES control pad for $9.99.

"We wanted to give fans of all ages the opportunity to revisit Nintendo's original system and rediscover why they fell in love with Nintendo in the first place,"
Nintendo of America President and COO Reggie Fils-Aime said in a statement.
"The Nintendo Entertainment System: NES Classic Edition is ideal for anyone who remembers playing the NES, or who wants to pass on those nostalgic memories to the next generation of gamers."