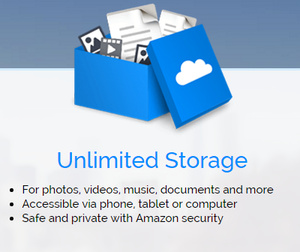 Amazon is now offering an unlimited storage plan for all kinds of files for £55 per year in the UK, less than £5 per month.
Existing Prime customers already could take advantage of unlimited storage for photos, but now anybody in the UK can sign up for unlimited storage of all kinds of files for £55 per year. Some members may also be entitled to try out the unlimited plan for three months without charge.
"Most people have a lifetime of photos from birthdays, holidays and everyday moments stored across numerous devices--and a lot of those people don't know how many gigabytes they need to back all those memories up, or what it's going to cost,"
said David Nenke, Director of Amazon Drive.
"With our new Unlimited Storage plan, that's no longer something customers need to worry about. They now have an affordable, secure solution to store unlimited amounts of photos, videos, movies, music, and other files in one place--with no tiered storage options or rising fees to worry about."
The plan means users could automatically backup all photos and videos storage on their phones and other devices to the cloud storage service, as well as documents or other types of files they need to keep secure.
For more information, see
www.amazon.co.uk/clouddrive