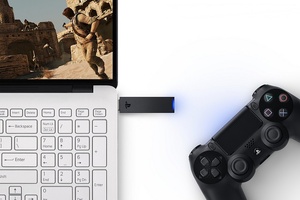 You will soon be able to play some older PS3 classics on your Windows PC using a DualShock 4 controller.
PlayStation Now is coming to Windows starting with parts of Europe very soon, with North America following shortly after. This will blockbusters from the Uncharted, God of War, and Ratchet & Clank franchises to Windows along with hundreds of other games currently on offer from the service.
In order to use PlayStation Now on your Windows PC, you should match or better these recommended specifications:
Windows 7 (SP1), 8.1 or 10
3.5 GHz Intel Core i3 or 3.8 GHz AMD A10 or faster
300 MB or more; 2 GB or more of RAM
Sound card; USB port
A minimum 5Mbps Internet connection is also required to use PlayStation Now properly with a wired connection being recommended.
In addition to the arrival of PlayStation Now on PC, Microsoft has also unveiled a new DualShock 4 USB Wireless Adaptor, which launches in early September for a suggested retail price of $24.99 ($29.99 CAD). You can use the adapter with PlayStation Now or for PS4 Remote Play on PC and Mac.