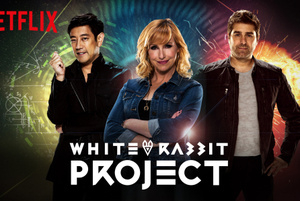 Netflix has confirmed its newest addition, White Rabbit Project, which will be premiering on December 9. The show is a Mythbusters spin-off and stars the three members of the infamous build team.
White Rabbit Project is produced by the same Beyond Productions that was behind the cult show Mythbusters. After 14 seasons Mythbusters' last episode was aired earlier this year.
We will not see the two biggest personalities of Mythbusters, Adam Savage and Jamie Hyneman, in the new show but there build team's Kari Byron, Tory Belleci, and Grant Ihamara are all back.
Deadline reports
that the show tackles a wide variety of interesting topics in science, history, and pop culture with episodes focusing on prison escapes, war weaponry, and technology, among others.
There's no word yet how many episodes the first season will have but all will be available worldwide.