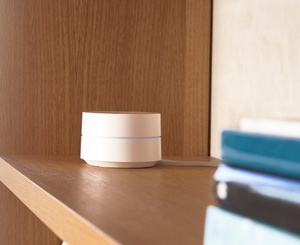 Google has continued their efforts to take over your home, announcing the Google WiFi home router.
The device will start shipping in December and cost $129 - in-line with other mid-to-high range routers, or you can buy a three-pack for $299 if you would like to create a "mesh network."
"It's modular, so you can get the right fit for your home's shape and sizes. Simply add wifi points to expand coverage,"
said Mario Queiroz, lead of the product management group within Google's hardware division.
Google promises managing your bandwidth is easy using their app, and also promises that keeping your Internet connection fast is a top priority. Says Google:
"Network Assist is intelligent software built into Google Wifi to provide you with the fastest possible speed. Behind the scenes, Network Assist automatically helps you avoid Wi-Fi congestion, and transitions you to the closest Wi-Fi point for the best signal. Network Assist will offer suggestions on how to optimize performance, like where to move a Google Wifi point for faster speeds or providing data so you can adjust your ISP plan."

Check out the router here:
Google WiFi