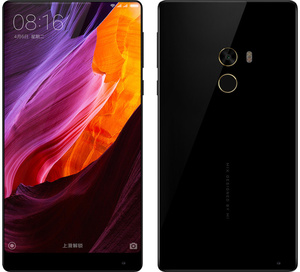 Chinese smartphone startup Xiaomi has unveiled their new Mi Mix smartphone, quite easily the best-looking device released in 2016.
The phone, developed with product design genius Phillippe Starck, has a 6.4-inch edgeless body, meaning no bezels on three sides. Additionally, the body is made entirely of ceramic, giving it a premium feel unlike other devices on the market.
Because of its bezel-less design, the Mi Mix has a screen-to-body ratio of 91.3 percent, crushing the iPhone 7 at 67.7 percent and even the Pixel XL at 71.2 percent. To get such a high level, Xiaomi got rid of the physical earpiece speaker and sensors that most smartphones employ, going with a piezoelectric ceramic driver for the speaker instead and an ultrasonic proximity sensor, both of which are behind the glass.
Of course, such a screen comes with a caveat; the selfie camera. The module has been moved to the bottom half of the device, meaning it will take a little getting used to.
Full specs:

6.4-inch 2040 x 1080 pixel display
2.35GHz Qualcomm Snapdragon 821 processor
Your choice of 4GB RAM + 128GB storage or 6GB RAM + 256GB UFS 2.0 storage
4,400mAh battery with Quick Charge 3.0 support
16-megapixel rear camera
5-megapixel front camera
High-precision GPS with sensor-assisted positioning
As with all Xiaomi devices, it will be available in Asia only.