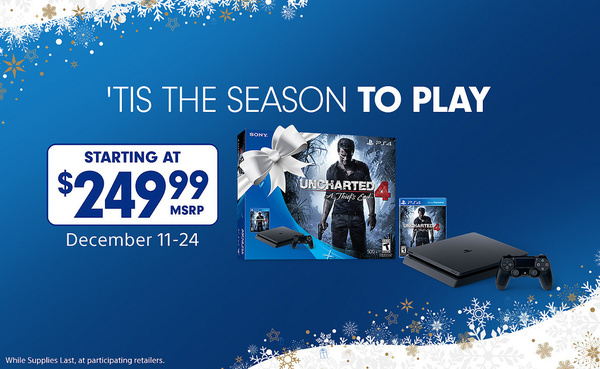 Sony is once again taking $50 off the price of a PS4 bundle for two weeks this month.
If you missed out on Black Friday deals for a PlayStation 4, then this offer might interest you. Just as it did last December, Sony is offering a $50 discount on a bundle - the Uncharted 4 PS4 Bundle - between December 11 and December 24.

During that period, U.S. customers can get the Bundle for $249.99. In Canada, you can pick up the Uncharted 4 PlayStation 4 Bundle for $329.99 CAD until December 29th.

The Uncharted 4 PS4 bundle includes the slimmer PS4 model with a 500 GB hard drive, a DualShock 4, and the critically acclaimed Uncharted 4: A Thief's End. The new cooperative and solo mode, Uncharted 4: Survival, launches this month.

Sony announced this week that it has sold more than 50 million PS4 consoles since its initial release in 2013. This Black Friday weekend was the best weekend for the "PlayStation brand" in its history, and is the reason why this special offer has been extended to a further two week period this month.