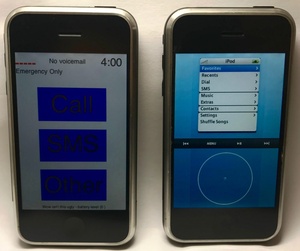 It's been ten years since the iPhone was unveiled by Steve Jobs. Sparking the smartphone revolution the iPhone was essentially the same thing it is today. Just a big touchscreen with apps.
It always wasn't meant to be like that though. A newly surfaced video shows what two different prototypes of iOS looked like. In the video, shared on YouTube by Sonny Dickson, P1 and P2 are compared. The former is a version that was built based on the iPod OS by a team lead by Tony Fadell and the latter is one based on OS X by Scott Forstall's team.

As you can see neither one really looks like the current, or even the first released iOS, but it is in fact the one on the right that was developed to be the first iPhone's operating system. Even though the iPod system seems more finished one can easily see how frustrating and limiting it would be to use a virtual click wheel to navigate.