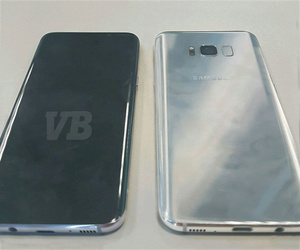 Samsung is preparing one of its most important launches in quite some time as they are getting close to ready to launch this years Galaxy S flagship smartphone. Because of the catastrophic failure of Galaxy Note7 last year this launch carries a special significance.
The phone has been leaked in dozen or more photos and lists of features but now we have the first one that we should definitely take seriously. Evan Blass (@evleaks) of
VentureBeat
has revealed pictures and details of the upcoming phone.
Blass, known for his accuracy amongst the leakers and journalists alike, shows off pictures of the metallic silver device from back and front. The front picture reveals that there seems to be no home button, as suspected, and the back on the other hand shows the new position of the fingerprint reader next to the camera.
He continues to unveil the specs that bring a huge boost in screen real estate. The phone comes with two versions, S8 and S8 Plus?, like last year and they feature 5.8 and 6.2 inch displays respectively. Because the displays cover almost the whole phone their aspect ratio is also rather unusual 18.5:9 instead of the traditional 16:9.
Samsung has also taken one feature from Apple's playbook as it bring the pressure sensing to its displays. Battery capacity stays pretty much at par with previous year at 3000 and 3500 mAh.
According to the report nothing spectacular is going to be done to camera, SoC or memory. Snapdragon 835, 12 megapixel camera, 4 GB of RAM and 64GB microSD expandable storage are everything we expected.
Samsung is expected to reveal its Galaxy S8 models on March 29 instead of April release that was rumored.