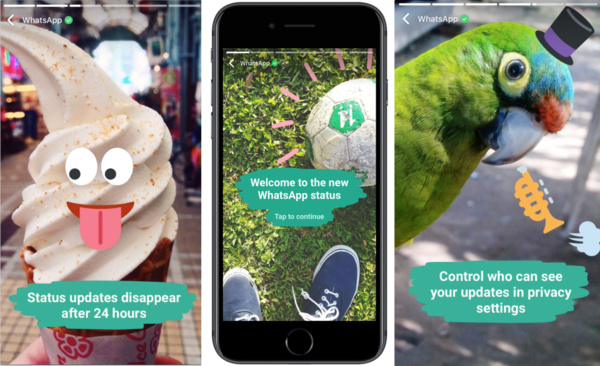 WhatsApp has long ago surpassed SMS in popularity and its billion users is rivaled only by Facebook Messenger, both obviously owned by Facebook.
WhatsApp's road to success has really been very simple. The company made a simple, easy-to-use, phone number based messaging system that didn't have many faults. Over time they've implemented new features but they've never tried to reach too far.

One thing they have been pioneering is security. WhatsApp messages and now even videos and calls are all encrypted if the user so desires. The latest new feature was Groups, which allows users to create multiple group chats.

Now, however, WhatsApp has come up with a surprise feature. The new feature is actually a new iteration of the status that has pretty much always been a part of WhatsApp but not an integral part by any means.

Status takes now more of a center stage and its essentially a carbon copy of Snapchat's Stories feature. Thus the status now allows you to add pictures, videos, or even GIF animations. Pictures can be enhanced with emojis or hand-drawn accents. The status updates self-destruct after 24 hours.



While the update will come to all mobile platforms (iOS, Android, Windows) it will roll out gradually starting today.