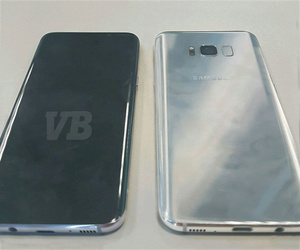 Just over
three weeks ago
we had you the first reputable Galaxy S8 leak (picture above) which showed both front and back of the device. Unfortunately the picture didn't reveal much because of its quality but fortunately now
PhoneArena has released
a few better pictures.
Being the most anticipated device of Spring 2017 rumors have been going crazy lately. However, before today we haven't seen good quality pictures of the device close up and with the display on.
The new pictures show that the upcoming Galaxy S8 seems to come with an array of sensors on the top of the device and as expected the display takes up almost the whole front panel. This seems to mean that the physical home button has been removed and thus the fingerprint reader moved.
The pictures also show the Edge Apps that take use of the curved Edge display on the S8. Maybe even more interestingly two of the pictures show the Always On display feature which shows the clock (and some other information) even when the phone is not active.
While this might not come from as reputable of a source as the previous leak, this seems to represent what is commonly agreed the Galaxy S8 – and the Galaxy S8 Plus – will look like. However, you might want to take it still with a grain of salt.