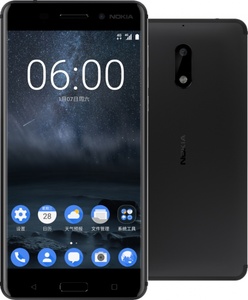 The new Nokia-branded Android devices are not aimed at taking on flagships from heavyweights like Samsung, but instead target the affordable end of the market with competitive pricing and decent specs.
Among the new Nokia gear is the Nokia 6, Nokia 5 and Nokia 3. The Nokia 6 was introduced in China in January this year and immediately roused interest, with over a million reservations being placed, and soon it will be availble in more markets.
It features a 5.5-inch 1080p display, 3GB RAM and 32GB internal storage with a microSD slot if you need more. A special edition Nokia 6 "Arte Black" will bump memory to 4GB RAM and internal storage to 64GB.
The Nokia 5 features a 5.2-inch 720p display, 2GB of RAM and 16GB of internal storage with a microSD slot for expansion up to 128GB. It packs a 13 megapixel camera on the back and 8 megapixel on the front. Like the Nokia 6, it is powered by a 3000mAh battery.
Both the Nokia 6 and Nokia 5 pack a Qualcomm Snapdragon 430 but the lowest cost option, the Nokia 3, downgrades to a MediaTek 6737. It also has 2GB of RAM and 16GB internal storage, but no microSD slot, while the battery downgrades to 2650mAh.
All the devices run vanilla Android, with no bloatware or significant modifications, similar to Android on Nexus or Pixel.
The 5.5-inch Nokia 6 is expected to retail for around €229 in Europe, while the Nokia 5 drops to €189, followed by the Nokia 3 at €139. The special edition Nokia 6 "Arte Black" will sell for €299.
All the new Nokia Android phones will launch in the second quarter.