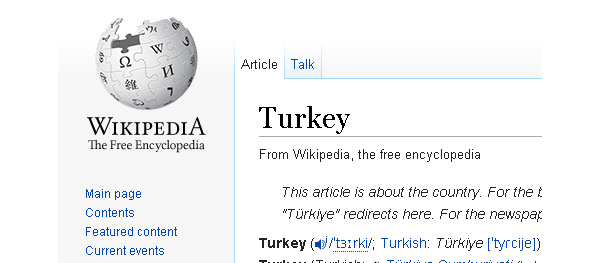 The Turkish authorities have blocked access to Wikipedia, citing a 'smear campaign' against the country.
The block was announced by the BTK telecommunications watchdog, citing a law that allows it to block access to content on the Internet if it is deemed a threat to national security, or if it is obscene. Wikipedia.org has been blocked by the authorities on the grounds that it is engaged in a smear campaign against Turkey by linking the country to militant groups.
"Instead of coordinating against terrorism, it has become part of an information source which is running a smear campaign against Turkey in the international arena,"
Anadolu, a state-controlled news organization, reported.
The ban will only be lifted if the online encyclopaedia complies with demands from the Turkish government, according to the
Reuters news agency
.
Censorship of this kind is likely to concern rights' campaigners who have blown the whistle on infringements on freedom of speech and other rights in Turkey in the past year.