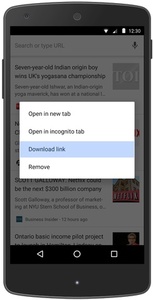 Google has made some improvements to the offline viewing of webpages in the Android version of its Chrome web browser.
Users of the browser already download more than 45 million webpages per week since the feature was added to the browser last year.

Now, Chrome developers are just adding some improvements to make it even easier to accomplish.

You can now long-press on any link to get the option to download it, and you can do the same for an article suggestion on the new tab page.

Once you attempt to visit a webpage and are greeted with the "You are Offline" page, there is now an option to download the page automatically as soon as it becomes reachable.

Last but not least, the New Tab page will also display previously downloaded pages tagged with a new offline badge.

Improvements like this can be helpful for users with intermittent data coverage, or when dealing with an unstable remote server.