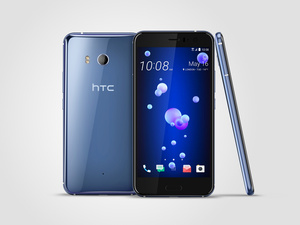 HTC has unveiled today their newest flagship smartphone. The U11 is a top tier smartphone that comes with a proprietary pressure sensing technology that differentiates itself from the likes of Galaxy S8 and LG G6.
The Edge Sense technology, as the company calls it, is able to sense the pressure when the user squeezes the phone. This allows the device to perform tasks depending on the pressure level and duration. The sensors are located on the sides of the phone, which brings us to another difference to the aforementioned competitors.
Unlike LG or Samsung, HTC's flagship doesn't have a bezel-less display but instead a more traditional one we would have expected from every single smartphone last year. However, in 2017, it has become increasingly popular to remove the home button and stretch the display to all edges.
It is, though, not the fault of the new technology per se, as
BGR as found out
. According to HTC staff they just don't have the display prowess of manufacturers like LG and Samsung that can custom build their displays.
Even without the trendy display the U11 is a true flagship, make no mistake about that. The 5,5 inch QHD display is accompanied by the Snapdragon 835, 4 gigs of RAM, 64 gigabytes of microSD expandable storage, 12 MP UltraPixel camera and a 16 MP selfie shooter.
Don't let the megapixels fool you, though. Like the Samsung's back shooter, this 12 megapixel camera is a force to be reckoned with. According to
DxOMark
it is the new leader in smartphone camera quality as the first one to reach 90 points.
It features a 1/2.55 sensor, f/1.75 aperature, dual LED flash, super fast dual-pixel Phase-Detect Autofocus, and OIS.
U11 includes a 3000 milliamp hour battery which supports Qualcomm's Quick Charge 3.0, and is protected from the elements (at least water and dust) by IP67 certification. Both front and back are Gorilla Glass 5.
HTC U11 will ship in June and will cost $649 unlocked on Amazon or on Sprint as the exclusive carrier partner starting on June 9th for $29/mo for a 2 year contract for a total of $696.