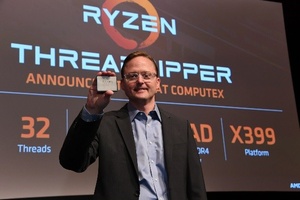 AMD's Ryzen brand processors have managed to challenge some of the Intel's Core CPUs fairly well already but there's one product family that AMD is unable to beat or even compete with. To right this wrong AMD has unveiled new Threadripper CPUs that will be released as soon as next month.
AMD has revealed more about upcoming Ryzen CPUs on a press release on their website. According to it the CPUs first unveiled at Computex earlier this year will be named Ryzen Threadripper 1950X and 1920X

These processors are designed exclusively to challenge Intel's top tier Core units, and as you might guess from their name there are threads – and cores – aplenty. The top of the line Threadripper 1950X is a 16-core beast with 32 threads and a clock speed of 3.4Ghz (Turbo 4.0 Ghz). Obviously theses type of specs come with a hefty price tag.

1950X has a suggested retail price of $999 which is around the same as a Core i9 7900X. However AMD also has in store another Threadripper, the 12-core and 24 thread 1920X, which is "only" $799.



Both of the new CPUs are said to beat the aforementioned i9 7900X. Both of them will be available from early August onwards. AMD also revealed that it will be releasing new Ryzen 3 CPUs for affordable setups later this month.