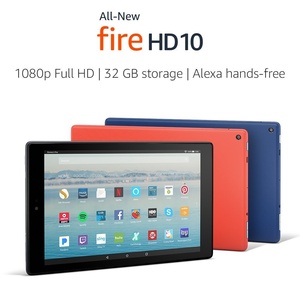 Amazon has unveiled a refreshed version of its Fire HD 10 tablet. The online retailers improved 10-inch tablet has got more storage and performance but a reduced price tag.
The new Fire HD 10 retails starting at $149.99 and includes doubled storage capacity. Not only is the storage increased to 32 gigabytes but there's a new MediaTek octa-core processor that is said to improve performance up to 30 percent.
Just the price drop of 35 percent is a significant improvement on value. Add in the improved performance and storage and you've got a pretty good deal. Fire HD 10 features a 10.1 inch Full HD display, 2 gigabytes of RAM, two cameras (VGA front-facing, 2MP rear-facing), 3.5 mm headphone jack, stereo speakers, and a microSD slot for expandable memory up to 256 gigabytes.
However, one has to remember that Fire HD 10 is not a full-fledged Android tablet but for Amazon customers, and especially Prime members, it is certainly worth a look.
The new versio can already be preordered
on Amazon
but it'll be released on October 11. There's also a 64GB model for $189.99. Both are available in black, blue, and red.