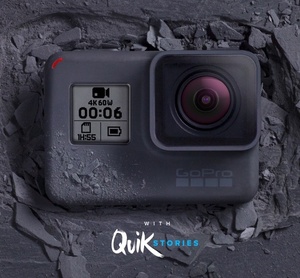 The company synonymous with action cameras, GoPro, has unveiled their newest HERO series camera. The new HERO6 Black is the successor of HERO5, obviously, and brings along a couple nice to have features.
The upgrades aren't anything revolutionary, though. The identical design perhaps reveals that this is definitely an iterative upgrade. There is no 6K or 5K recording, but GoPro has included an all-new GP1 custom chip that provides better performance.
HERO6 Black can now record 4K and Full HD 1080p with twice the framerate. That means you have the option to record 4K@60fps or 1080p@240fps, both of which are rare in even more expensive cameras.
One thing you have to keep in mind is that the top tier resolution and framerate combinations (4K@60fps and 1080p@240fps) do not support electronic image stabilization.
In addition if you'd like a little bit of a slow motion but need more resolution you can choose 2.7K@120fps. Of course GP1 image processor is said to improve the picture quality as well.
Like the predecessor, HERO6 Black supports voice commands, so you can start (and stop) recording without touching the camera. It also now supports touch zoom in case you don't hate digital zoom.
One of the key features promoted by GoPro is QuikStories that allows you to easily edit and post videos to social media.
So there is definitely something new on the new HERO but is it worth the extra $100 over the predecessor, you'll have to judge that by yourself. HERO6 Black is available now for $499.99.