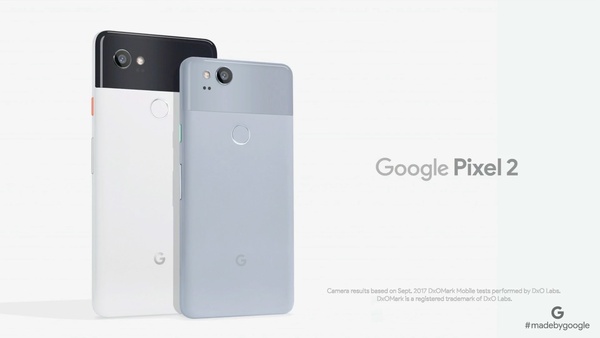 As anticipated, Google today revealed two new powerful Pixel smartphones with considerable camera improvements, Google Assistant, Google Lens and more.
Google celebrates the fact that there is essentially feature parity between its new Pixel 2 and larger Pixel 2 XL. The differences are in display, battery, color and of course, price. The Pixel 2 handset packs a 5-inch OLED screen at 1920x1080, whereas the larger Pixel 2 XL upgrades to a 6-inch pOLED display at 2880x1440. For battery, the smaller handset includes a 2,700mAh battery and XL upgrades to 3,520mAh.
Pixel 2 color options include Just Black, Clearly White and Kinda Blue, while Pixel 2 XL is available in Just Black and Black & White.
Under the hood, both pack a Qualcomm Snapdragon 835 chip, 4GB of RAM and a choice of 64GB or 128GB internal storage. They are water and dust resistant handsets and support fast charging (15 minutes provides up to 7 hours). Both run Android 8.0 Oreo (not 8.1 as predicted). A noticeable change is the lack of a 3.5mm headphone jack with the new Pixels, but each does come with a USB-C adapter so you can keep using your headphones.
Another interesting feature is an always-on display which lets you see notifications at a glance on Pixel's screen without having to touch the power button, while a new "Now Playing" feature, exclusive to Pixel 2, automatically identifies the music playing around you and displays the information.
Google is focused primarily on the camera improvements for Pixel 2, claiming that the handsets come with the highest rated camera ever in a mobile phone (DxOMark score of 98). The primary lens packs a 12.2 megapixel sensor with a f/1.8 aperture. Portrait mode shots are supported from the front and back camera, while new Motion Photos capture a few seconds of video around the shot so you can relive the moment around the picture.
Using its computational photography and machine learning (ML) capabilities, Google says Pixel 2 can provide features found in other handsets without also requiring the presence of a second lens. Video capture should also be improved due to new optical and electronic video stabilization abilities that can provide much smoother video. As with the original Pixel, Google remains committed to providing unlimited storage for all photos and videos captured with Pixel 2.
Building on its AI expertise, Google has also brought Google Lens to Pixel 2, which allows you to carry out searches based on things you capture with the camera. For example, if you take a picture of a poster, Pixel 2 can capture information such as URLs, contact information and more.
Google Assistant is also, of course, a big part of Pixel 2's selling point. You can summon Google Assistant with voice commands, or by squeezing the device's side bezels as has been seen in previous HTC hardware.
As for availability and pricing, Pixel 2 and Pixel 2 XL are available for pre-order today starting at $649 in the U.S for the 64GB smaller handset, and $849 for the larger handset. Both products are also available in Australia, Canada, Germany, India and U.K.