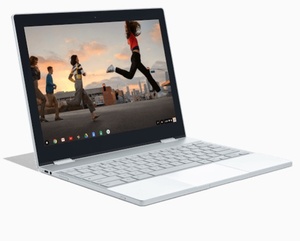 Google has announced a new laptop product yesterday in its October event. The super slim and extremely lightweight device runs, of course, Google's own Chrome operating system.
Named Pixelbook, the new laptop has a 12.3 inch 2400 x 1600 resolution touch screen that means a nice 235 pixels per inch density. You can get it in three different configurations, with either Core i5 or i7, and 8 or 16 GB RAM. The SSD ranges from 128GB to 256GB and 512GB.
The notebook weighs only 2.4 pounds and is 0.4 inches or 10 mm thin.
One of the more hyped features of the new Pixelbook is Instant Teathering which allows moving from WiFi to smartphone teathering a breeze. When you move out of WiFi's range the laptop automatically changes to your mobile data. Unfortunately you'll need a Pixel phone to use the feature.
Google also introduced a stylus developed with Wacom to work perfectly with the Pixelbook. Pixelbook Pen is the only Google Assistant supported stylus.
Pixelbook starts at $999 (i5/8GB/128GB), and the top of the line i7/16GB/512GB configuration will retail for $1649 when it launches later on. You can order the two cheaper models starting now.