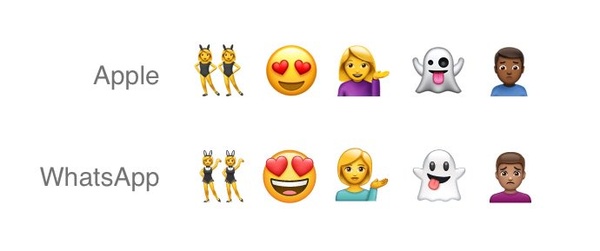 WhatsApp has released a new beta version of their world-leading messaging app. You might not immediately notice anything new after downloading the new app on to your smartphone but there's definitely something that you'll notice once you start typing messages.
See, the messaging platform has updated their emojis. Before WhatsApp has been using default emojis from Apple's iOS mobile platform. Now the company has removed the dependency and moved on to use emojis designed in-house.
Well, I say designed in-house but really they are just copied from iOS emojis with a few details changed.
Most of the emojis are very similar to the Apple's but WhatsApp has tried to make the pictures even more lighthearted. However, while in many smileys it might be hard to even notice the difference, there are definitely differences.
Emojipedia
has highlighted some of the differences, like the ones in the picture attached.
Currently the new emojis are only used in the pre-production version of WhatsApp on Android but will soon come to stable versions on both Android and iPhone/iPad.