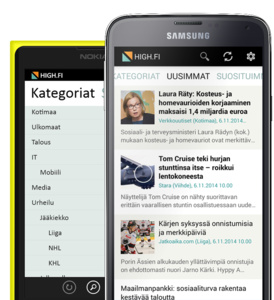 Ever wanted to see
all
the tech news in one widget? Wanted to follow not tens, but thousands of news sites with one app? Our own app,
HIGH.FI News reader for Android
does exactly that. It follows thousands of news sites across the globe, categorizes the headlines to seven different languages and hundreds of categories - and you can simply get a full view of what is happening in the world, right now.
Now, we've just updated the app to a new version.
v1.136
finally brings source filtering to homescreen widget, too. So, if you hate a specific news site and never want to see that site's headlines in your feed again, you can do exactly that by adjusting the settings - and now those settings take effect on our flexible homescreen widget, too.
We follow pretty much all the tech sites in U.S., UK, Italy, Netherlands, Finland, Sweden, etc and show you the headlines in correct categories. Headlines are updated constantly and we tens of thousands of headlines each and every day´.
Download HIGH.FI News Reader for Android
P.S. All the headlines can be viewed through HIGH.FI website, too.