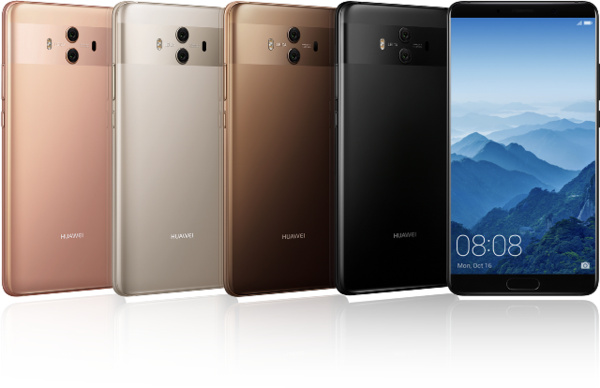 In yesterday's press event Huawei unveiled this years Mate-lineup. That included two new flagship phones Huawei promised even before the launch would blow iPhones out of the water when it comes to AI.
Both of the new flagships, Mate 10 (top picture) and Mate 10 Pro (bottom picture), include the AI enabled HiSilicon Kirin 970 chipset. Armed with a Neural Processing Unit, or NPU, the Mate 10 duo should be able of some impressive feats, right?
Well, yes and no. It might be able to do things most smartphones can't do but currently it is used very sparingly. The Chinese smartphone manufacturer said that the phones smart features include context-aware camera that changes its settings to match the place and subject. Also Mate 10 (yes, the Pro as well) knows how dim the screen depending on more than just the ambient light sensor, and improve battery life according to your usage.
However, according to Huawei it is up to 3rd party developers to fully unshackle the power of Kirin 970 and its NPU.
Fortunately Huawei's new flagships aren't all about AI unlike you might have imagined after such a strong AI focused marketing campaign before the launch. The Mate 10 features a 5.9 inch QHD resolution (1440x2560) display, 64GB microSD expandable storage, 4 GB of RAM.
What differentiates Pro from the base model, then? Well Pro doesn't have 3.5 mm headphone jack or microSD slot but instead sports a 18:9 inch Full HD+ display (1080x2160) without home button or fingerprint reader up front. No worries though, the fingerprint reader is in middle of the back panel – the middle, Samsung. Also Pro comes with a 128/6GB setup.
Also Mate 10 Pro is slightly thinner at 7.9mm compared to Mate 10's 8.2mm. Both however have the same huge 4000 mAh battery. The camera's are also the same, offering a dual setup in the back (20 MP monochrome + 12 MP color, OIS, f/1.6) and 8MP and f/2.0 selfie shooter in the front.
The two models are priced at 699 euros (approx. $820) for Mate 10 and 799 euros (approx. $940) for Mate 10 Pro in Europe and availability depends on the market. Mate 10 will start selling late October, Mate 10 Pro preorders start on October 30th and hits the stores mid November. Rumors have it that the US will get only the Pro version.