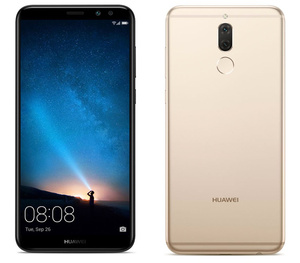 Huawei unveiled yesterday the new Mate 10 lineup that included
two flagship phones
with newly found AI prowess. There was however a third new release as well, a much more affordable one.
The Chinese manufacturer's third option is Mate 10 Lite which is in many ways the lightest of the bunch. If is the slimmest at 7.5mm, the lightest at 164 grams or 5.78 oz, and definitely weighs the lightest on your wallet at 400 euros (approx. $470).
As you might imagine with half the price of the Mate 10 Pro you can't exactly get all the specs. That means no AI powered Kirin 970, instead more of a mid range Kirin 659.
However, Mate 10 Lite is still not horribly stripped-down – there's still a dual camera setup, actually two. In the back you'll have a 16MP + 2MP setup and in the front a dual 13 MP selfie camera. The battery is still an impressive 3340, and the display is the same resolution as Mate 10 Pro with Full HD+ or 1080 x 2040. The size is very comparable too, 5.9 inch vs the Pro's 6.0 inch.
It is definitely one of the cheaper large displays that shrink the bezels enough to squeeze out even the home button. Fingerprint sensor, however, is still there in the back.
Mate 10 Lite will come available in black, blue and champagne on November 6th in Europe. No word on the US pricing or availability at this moment.