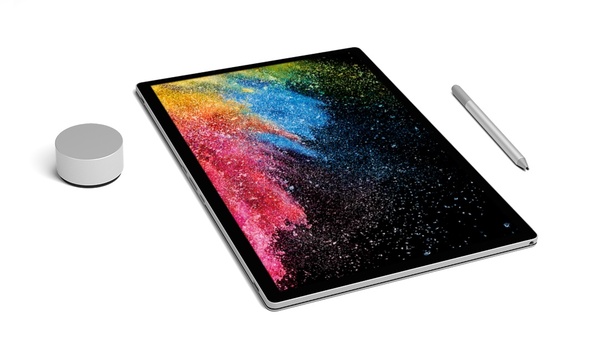 Microsoft has announced today a new Surface Book 2, the second generation of the hybrid laptop. It is aimed solely at competing against the MacBook Pro, which Microsoft promises it will blow out of the water.
According to Microsoft's Panos Panay, the new Surface Book 2 offers double the performance compared to Apple's offering. What this exactly means is questionable but it definitely offers impressive specs.
The device comes now in two form factors, 13.5" and 15", which offer either Core i5 (for 13.5") or Core i7 (both) processors, GeForce GTX 1050 or 1060 graphics chips, massive 70 (13.5") or 80 Wh (15") batteries, improved hinge mechanism that allows multiple use cases, and detachable display for tablet use.
With big battery (and touchscreen) comes big burden: 13.5 inch Surface Book 2 weighs in at 3.38 lbs while the bigger one is fairly hefty at 4.2 lbs. Fortunately Microsoft promises up to 5 hours battery life in tablet mode and a whopping 17 hours with the keyboard base.
Storage options include 256 GB, 512 GB, and 1TB SSDs, the display is either a 10-point PixelSense touchscreen with 3000 x 2000 (267 PPI) on the 13.5" or 3240 x 2160 (260 PPI) on the 15" model.
Surface Book comes with a more impressive array of connectivity compared to MacBook Pro. While it only has one USB-C, capable of charging and data transfer, many will appreciate two USB-A ports as well as the integrated memory card reader.
All this does not come cheap, at least compared to other Windows 10 brethren. However, at $1499 (13.5") and $2499 (15") starting prices it is definitely in the range of MacBook Pro. If you want the top of the line model, you'll have to shell out way more than that though.
Preorders start on November 9 with shippings beginning a week later on November 16.