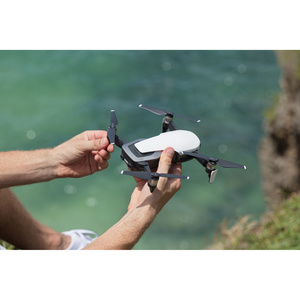 Drones have been used by the professionals, including filmmakers and military, for a long time now, and even the consumer has a myriad of choices when it comes to quadrocopters. One manufacturer, however, has been above the others on both professional grade as well as customer drones: DJI.
Now the GoPro of drones has released yet another drone. The new one is called DJI Mavic Air and as you might imagine it is a sibling to the popular semipro, prosumer, drone called Mavic Pro. DJI believes that this new version is more accessible to the normal customer while bringing along some of the more professional features.
Mavic Air is a foldable, super light weight drone that is able to film 4K video. One could easily call it a cross between the more capable Mavic Pro and recently introduced tiny Spark.
It's half the size of Mavic Pro and costs a few hundred less at $799. You'll get footage in forms of 4K@30fps and Full HD@120fps video recording, 12 megapixel stills, 32 megapixel panoramas. The remote range is around 2.5 miles but maximum flight time around 21 minutes that is obviously a little less than you get with a Mavic Pro.
The lightweight Mavic Air is a fairly speedy drone, though, as it gets up to 42 mph in Sport Mode.
DJI Mavic Air will become available upcoming Sunday, January 28, and you can get it for $799 in three color choices (Onyx Black, Arctic White, or Flame Red). Package includes the drone, one battery, remote control, carrying bag, and a set of propellers and protectors.