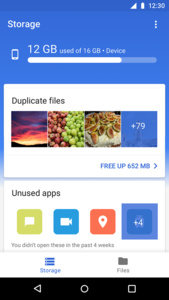 Google
just updated its free
(and ad-free)
file manager for Android devices,
Files Go
.
Files Go is Google's solution to Android's ever-present problem of storage memory being full. Files Go can analyze the device's storage and find duplicate files, unused installed applications and old cache files that take up space - and allow deleting such files in order to free up some resources.
App that was originally launched back in 2017 was recently updated to a new version that now supports also SD cards for scanning and has better UI for tablet-sized devices. App is also pretty good file manager and in that area, things have improved too: users can now choose default apps for each file type
(regardless of the Android's internal default selections)
.
You can download Files Go
from here
.