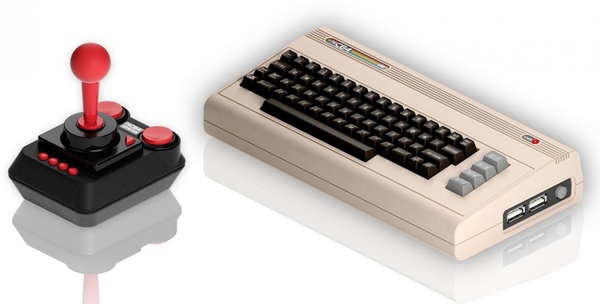 The past two years have been good for retro gamers. First, we got
NES Classic Edition
from
Nintendo
back in 2016. In 2017, arrived
SNES Classic
. And now, probably the biggest legend of them all,
Commodore 64
is making a return.
USC-powered mini computer, dubbed as
The C64 Mini
, will be available in March, 2018 with suggested retail price of 79,90 € in Europe, appx. $70 in United States.
The retro gaming kit will include a miniature version of Commodore 64 chassis
(unfortunately the keyboard is just for the authentic look and is not functional)
, a USB joystick
(for those too young to remember, joystick is a gaming controller with one stick and two buttons..)
and pre-installed 64 licensed games.
Device has HDMI output that sends out 720p video in correct 4:3 aspect ratio, two USB ports for joysticks or a USB keyboard and internal storage for saved game states and game records.
List of games that ship with the device:
AlleyKat
Anarchy
Armalyte: Competition Edition
Avenger
Battle Valley
Boulder Dash
Bounder
California Games
Chip's Challenge
Confuzion
Creatures
Cyberdyne Warrior
Cybernoid: The Fighting Machine
Cybernoid II: The Revenge
Deflektor
Everyone's A Wally
Firelord
Gribbly's Day Out
Hawkeye
Heartland
Herobotix
Highway Encounter
Hunter's Moon
Hysteria
Impossible Mission
Impossible Mission II
IO
Jumpman
Mega Apocalypse
Mission A.D
Monty Mole
Monty on the Run
Nebulus
Netherworld
Nobby the Aardvark
Nodes Of Yesod
Paradroid
Pitstop II
Rana Rama
Robin Of The Wood
Rubicon
Skate Crazy
Skool Daze
Snare
Speedball
Speedball II: Brutal Deluxe
Spindizzy
Star Paws
Steel
Street Sports Baseball
Summer Games II (inc. Summer Games I)
Super Cycle
Temple of Apshai Trilogy
The Arc Of Yesod
Thing on a Spring
Thing Bounces Back
Trailblazer
Cosmic Causeway: Trailblazer II
Uchi Mata
Uridium
Who Dares Wins II
Winter Games
World Games
Zynaps
The C64 Mini emulates original Commodore 64 completely, so plugging in a USB keyboard will allow the user to start writing BASIC commands, just like the original did.
The C64 Mini starts shipping worldwide on 29th of March, 2018 and it should be available from most electronics stores worldwide.