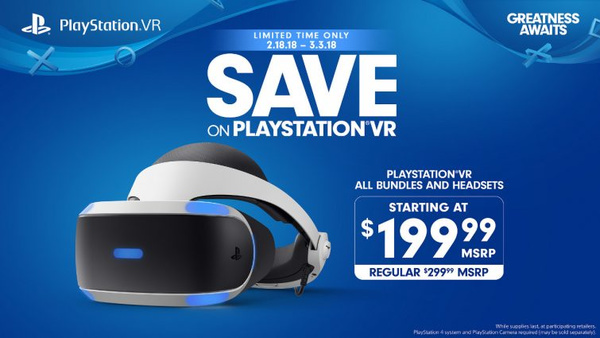 Sony is seeking similar success it had with its holiday PlayStation VR discounts with a new temporary price cut.
PlayStation VR prices are being cut by $100 temporarily as Sony seeks to clear out winter stocks. The promotion will run from February 18 to March 3. Under the deal you can purchase the standalone PlayStation VR headset for $199.99 during the time period.

You can also purchase the PlayStation VR Doom VFR Bundle, including the PlayStation VR headset, PlayStation Camera, the PS VR Demo Disc 2.0 and the Doom VFR Blu-ray Disc. The bundle would set you back $299.99 MSRP.

Alternatively, you can get the PlayStation VR Elder Scrolls V: Skyrim VR Bundle with the PS VR headset, PlayStation Camera, two PlayStation Move controllers, the PS VR Demo Disc 2.0 and Skyrim VR (+ addons). During the promo the bundle will sell for $349.99 MSRP.

There are also reports that you can pick up the Gran Turismo Sport bundle for just $199.99, but availability would be an issue if true.