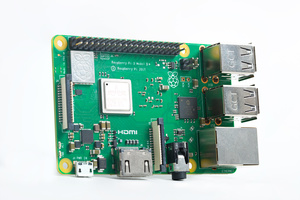 The go to device for computer DIY enthusiasts and other nano-sized computer needs has been updated with a new model. The new version of Raspberry Pi is called the Model B+.
While Model B+ is a fairly minor upgrade to the previous version, it does improve upon connectivity features and thermal management. It features a quad-core Broadcom BCM2837B0 chip that now offers 1.4GHz clock speeds instead of the previous 1.2GHz.
Although clock speeds have been improved, the bulk of the upgrade is not to the performance but to thermal design and power management which should provide a better overall thermal performance.
The nanocomputer Model B+ features a WiFi chip that supports 802.11ac and both 2.4 and 5.0GHz networks as well as Bluetooth 4.2 and Bluetooth LE (Low Energy). There's nothing new in terms of USB's though, so you'll still have the same four old, yet popular, 2nd gen ports, unsurprisingly.
What's nice, though, is that the computer-on-a-chip now supports Power over Ethernet, or PoE, which allows both power and network data to be transported in the same Ethernet cable. This is a common practice in many of the security cameras, for example.
Raspberry Pi Model B+ costs around $35 and can be found on
Amazon
.