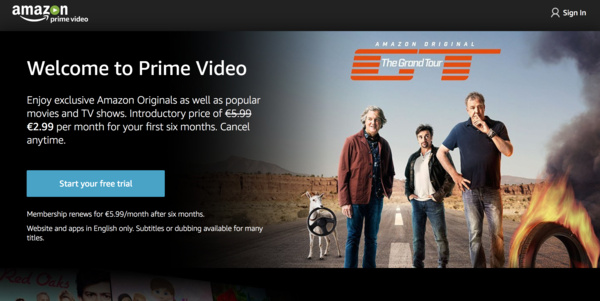 Netflix revealed their quarterly results this week, and even most of the more positive analysts didn't guess how well the three month period has gone for the streaming giant. Adding around 7.4 million new subscribers it was a whole million ahead of Wall Street estimates.
This means that Netflix's global user base has grown to around 125 million even when the company has in the recent past increased some of its pricing. However, Netflix is definitely not without competition these days, and Jeff Bezos wants to makes this clear.
Following the Netflix reports, Amazon founder and CEO Jeff Bezos unexpectedly revealed some stats about Prime memberships. Previously the company has stayed quiet about the subscriber counts but Bezos decided to share with investors that Prime subscribers have surpassed 100 million.
One doesn't know if the sudden urge to reveal membership details came because of Netflix's recent announcements but it does put Amazon's prowess into perspective. Obviously Prime membership offers much more than the Grand Tour toting video streaming service, which is continuing to invest in original content.
While Amazon isn't all in on the video streaming quite like Netflix and its $8 billion investment in programming, it definitely has potential to make Netflix's future seem a bit more uncomfortable.
Although Prime Video is available nearly worldwide, the biggest problem Amazon has is that many of its Prime service are available only in a handful countries with a lot of market specific limitations while Netflix is available everywhere, with the huge exception of China of course.
Amazon is said to be planning
expansion to Nordic countries
as soon as later this year.