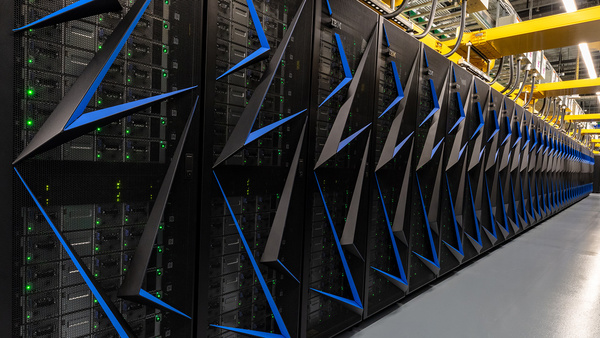 The United States is back on top of the supercomputer list with its new Summit supercomputer at Oak Ridge National Laboratory in Tennessee.
Summit has displaced Sunway TaihuLight from the top of the pile. The Chinese supercomputer can achieve a max performance of 93 petaflops, whereas the newly unveiled Summit can reach a theoretical max performance of 200 petaflops. That's around two hundred quadrillion floating point operations per second.

Summit was developed in partnership with IBM and NVidia. It can consume a whopping 13 megawatts of power and packs more than 10 petabytes of memory. Doing the actual number crunching is the job of 9,216 IBM POWER9 CPUs and 27,648 NVIDIA Volta GPUs. Its file system can store up to 250 petabytes of data, or around 74 years of HD video. It runs Red Hat Enterprise Linux version 7.4.

It occupies 5,600ft of floor space, which could fill two tennis courts. In that space is also packed over 185 miles of fiber optic cables. To cool this colossal machine down, more than 4,000 gallons of water is pumped through the cooling system per minute, removing around 13 megawatts of heat.



Summit will be used for research in many areas including astrophysics, cancer treatments and even quantum mechanics. U.S. Energy Secretary Rick Perry introduced Summit at ORNL on June 8, which you can watch online.