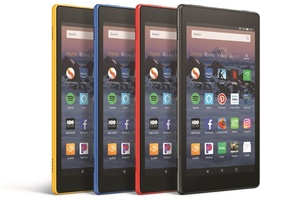 Amazon has announced the new Amazon Fire HD 8 low-cost tablet with an 8-inch display and quad-core processor for $79.99.
The new Amazon Fire HD 8 packs an 8-inch widescreen 1280 x 800 high definition display and a quad-core 1.3 GHz processor under the hood. It also packs 1.5 GB of RAM and either 16GB or 32GB of internal storage. Through the use of microSD, storage can be expanded to up to 400GB.

This tablet introduces always-ready, hands-free access with Alexa. When connected to Wi-Fi, ask Alexa to play a song, read aloud an Audible book, launch an app, or control video playback.

Amazon markets the new tablet as providing up to 10 hours of reading, listening to music, watching TV shows or movies, browsing the web, and more. You can ask Alexa to video call a friend or family member, adjust the room temperature on your compatible smart home thermostat, or show your compatible smart home camera.






Show Mode also provides an immersive hands-free Alexa experience that offers full screen visual responses that are optimized to be glanceable whether up close or across the room.

It is available to pre-order now for $79.99 and will be shipping from October 4. Specialized cases in several colors will cost $29.99.