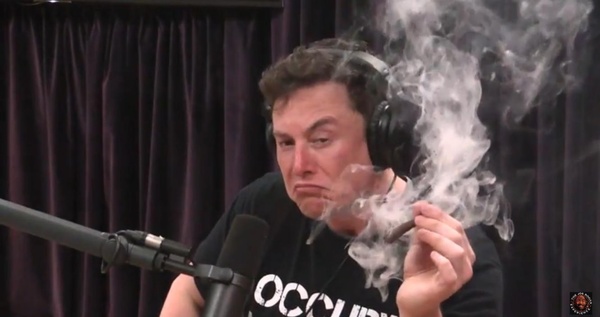 Elon Musk sits down for a two and a half hour discussion with Joe Rogan, and it doesn't disappoint in the slightest.
It has been a strange few weeks for Tesla and SpaceX CEO Elon Musk. He has come under scrutiny for disparaging remarks about a British cave diver, has been the subject of an SEC investigation over a tweet and is targeted in multiple lawsuits from short sellers who blame him for the loss of millions of dollars.

That made it all the more surprising when Elon announced earlier that he would join Joe Rogan on his podcast this week. The Joe Rogan Experience is a long-form podcast that routinely hits the three-hour mark with guests from all backgrounds and disciplines. Marijuana has certainly helped the cause for the host over the years.

It was no surprise when Joe Rogan sparked up a fat blunt during the podcast, but it was a surprise when he passed it to Elon.

"You probably can't because of stockholders, right?" Joe asked, to which Elon responded, "I mean, it's legal right?" and then proceeded to take a hit. It is legal of course, in California. Later on, Musk starts receiving messages from friends on his phone asking him why he is smoking weed on Joe Rogan's show live on the Internet.



Still, images and GIFs of a billionaire CEO of a publicly traded car company hitting a blunt have flooded social media, while many of Joe Rogan's fans on the podcast's subreddit have described the episode as among the best ever.

Weed aside, it was an interesting discussion and seemed to show Elon Musk the person. It ranged from talking about the behavior of chimpanzees to Elon's clear worries about artificial intelligence and wrapped up with Elon talking about the importance of love. It's hard not to wonder if the weed and whiskey had something to do with the latter.

In any case, it is a fun watch that starts off slow but picks up and gets very interesting in parts.