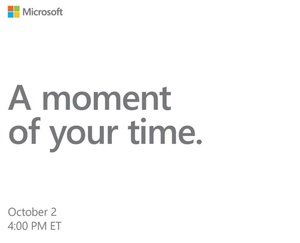 In technology industry, especially the smartphone part of it, the upcoming month will be perhaps the most important 30 days of the year.
Both Apple and Google are going to be introducing the newest generation of smartphones and probably some accompanying equipment like smartwatches and accessories.
While Microsoft is no longer really an entity in the smartphone race, and nowadays it just tries to spread its software wisdom as wide as possible, meaning both Android and iOS are getting more and more Microsoft-branded applications, it has squeezes itself in the 30 days period with its own hardware launch.
Redmond has sent out an invite proposing journalists and influencers give the company aptly a "moment of your time." They seem to realize that the press is going crazy after iPhones, iPads and Pixels over the next month, and they modestly just want a little bit of your precious time.
Microsoft's October event is held on October 2nd in New York City, just couple weeks after the iPhone launch and a week before Google's Pixel event. And it's not even that clear what Microsoft will unveil, although one could guess a new Surface Book 2 and a refreshed version of Surface Laptop.
However, they have quietly managed to build their Surface brand from a steaming pile of garbage that was Windows RT into something very, very appealing, like the Surface Book and Surface Laptop.
Usually its the underdog, the one that needs to work the hardest to get even a sliver of attention, that really delivers something exciting.
Now that we seem to know
much about the iPhones
as well as the new
notch king Pixel 3
, and Google even
killed the Pixel Watch rumors
, maybe Microsoft will be the one that surprises us the most.