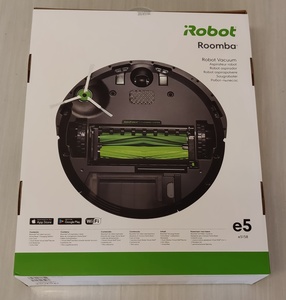 Roomba e5
is the latest robot vacuum cleaner from American
iRobot
. New line of Roomba robots promises better cleaning than its predecessors - and the problems with bristles getting stuck with rugs and carpets, shouldn't be a problem anymore.
iRobot launched the e5 and its more expensive sibling,
Roomba i7+
just couple of days ago and shipments are starting on 12th of September, 2018. iRobot's Nordic partner sent us a test unit, which we will test in depth in next couple of weeks.
Roomba e5 is the cheaper one of the two new models, MSRP set to $449 in the U.S. Obviously, even at that price range, the e5 is much more expensive than some lesser known competitors. But as the term "roomba" is virtually a synonymous to the robot vacuum cleaners, it is also the device that all other robot vacuums should be tested against.
Despite the full in-depth review still in the horizon, we thought it might be a worth to take a quick look at Roomba e5 now that get our hands on it.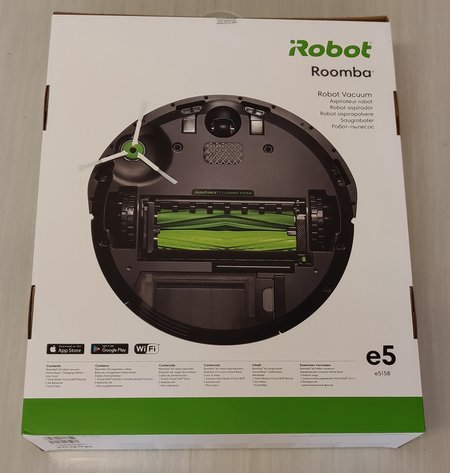 Roomba retail sale box
The e5 robot itself has the familiar look of Roomba's higher end models, looking almost identical to
Roomba 980
, but being slightly smaller.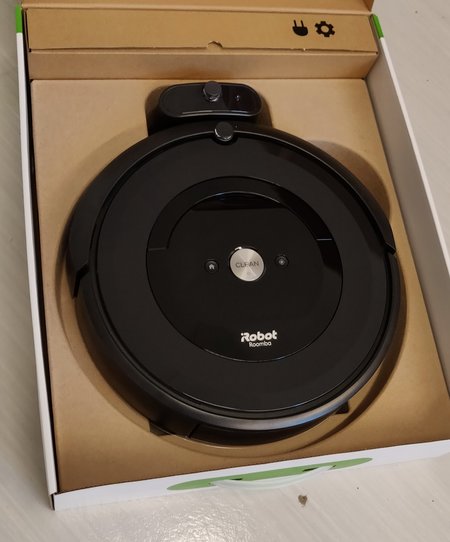 Roomba e5, the robot vacuum unit
Charging station is, again, almost identical to most Roomba's other charging stations.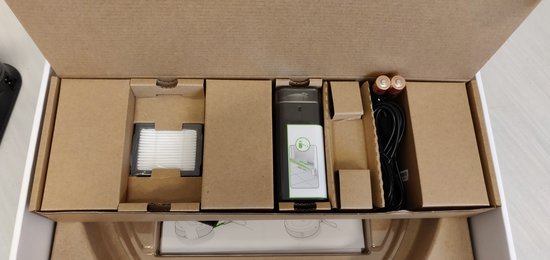 Roomba e5 accessories, including the Virtual Wall Barrier
Roomba e5 comes with one Virtual Wall Barrier unit. Virtual wall units allow user to block specific room or area of the house from the robot. With the virtual wall you don't need to close the door to the kids' room
(where all the Legos are scattered all over the floor)
before Roomba starts its cleaning.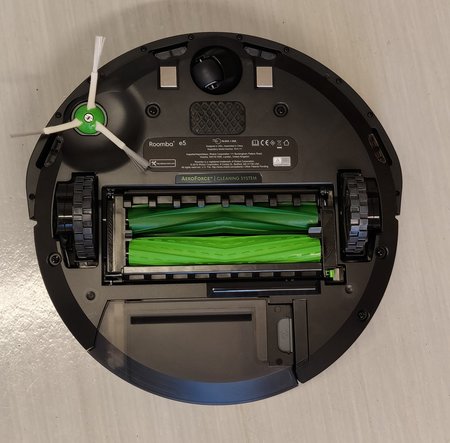 Roomba e5 bottom, showing the new "Dual Multi-surface Brushes"
The really new thing with Roomba e5 are Dual Multi-surface Brushes. A feature that, according to iRobot, allows the vac to clean both, hard floors and carpets, with the same 99 percent efficiency. Brushes should also be less prone to get stuck with rugs and other obstacles.
Compared to Roomba's cheapest models, its 600 series, the e5 promises 5 times more "air power" than 600 series, bringing it much closer to the iRobot's own high-end models.
And, of course, the new e5 is WiFi-connected, meaning that you can control the vacuum remotely - and to get notifications when it has finished the job
(or got stuck somewhere)
. And yes, just like every other smart device nowadays, Roomba e5 also supports both
Alexa
and
Google Assistant
.
One of the changes in e5 compared to the previous Roomba models is also the fact that it has a washable dustbin, meaning that you can simply wash off all the dust
(obviously after emptying the bin first)
from the dustbin before placing it back to the robovac.
All in all, it will be interesting to see how e5 compares to the current iRobot's top-of-the-line in the long run.