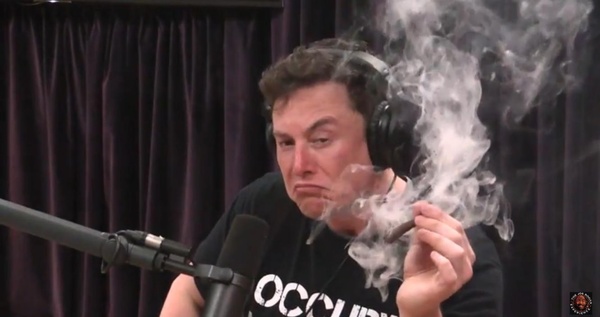 Reports had suggested that the U.S. Air Force was looking into Elon Musk's marijuana use on a podcast with Joe Rogan on Thursday.
Musk is the CEO of SpaceX, which is a U.S. government contractor and has launched classified payloads for the United States government. As such, Mr. Musk has a security clearance. On Friday, news reports suggested that the U.S. Air Force was looking into Musk's marijuana smoking on Joe Rogan's podcast as its use is prohibited by those with government security clearances.
Responding to the reports of the review by Fox Business Network and CNBC, U.S. Air Force spokesperson Captain Hope Cronin
denied that Musk's security clearance is being reviewed
over his appearance on the podcast.
Musk joined Joe Rogan for an episode of the wildly popular Joe Rogan Experience. During the podcast, Musk drank whiskey with the host and accepted an offer to take a hit from a blunt passed to him by Rogan. "I mean, it's legal isn't it?" Musk said before smoking. In California, it is legal but the federal level is a different story.
In a
quite interesting podcast
, Musk and Rogan talked about the dangers of artificial intelligence, the threat of digging ancient CO2 from the Earth and putting it in the atmosphere and oceans, the violent nature of chimpanzees, boring tunnels, the unsuitability of flying cars and so much more.