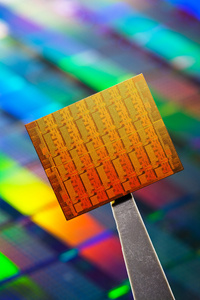 For years upon years processors have been built largely in the same fashion. Technology has improved the precision and nanometers are chipping away as companies perfect techniques to built smaller and smaller chips.
Intel has learned it can built the transistors in three dimensional space rather than just placing them next to each other in a level plane of silicon (like in the picture).
As simple as it may seem, previously building transistors on top of each other hasn't been easily accessible. The new technology Intel calls Foveros could unlock a true breakthrough in chip manufacturing,
Wired reports
.
It uses the same kind of technique used already in memory chips, where three dimensional manufacturing has been achieved. Foveros allows chips to include different kinds of chips in system-on-chips – for example modem, GPU or CPU – to be stacked.
This saves space which translates to more efficiency and more performance in the real life, especially in applications like mobile computing.
Foveros also allowes Intel to customize the layout for different kind of requirements and isn't stuck to one chip setup.
According to Intel, there are still some problems to be solved, but the company expects first devices featuring Foveros technology to arrive in 12 to 18 months from now.