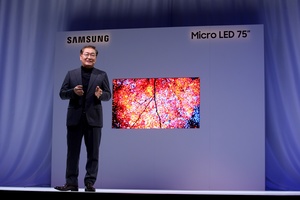 Samsung is showing off its modular Micro LED technology at CES in Las Vegas, with a 75-inch display and a giant 219-inch 'Wall' display.
The displays are made up of individual modules of self-emissive Micro LEDs, featuring millions of inorganic red, green and blue microscopic LED chips that emit their own light. Samsung first showed off the technology at last year's CES with a giant 146-inch Micro LED display.

This year the South Korean firm is back with an enormous 219-inch display. However, it has also brought along a home-friendly 75-inch 4K display.

The promise of the technology is down to its modular nature. Users can actually expand their display to any size they desire. The displays can be customized to fit any room or space, even at irregular 9×3, 1×7 or 5×1 screen sizes that suit their spatial, aesthetic and functional needs. MicroLED displays are bezel-free, meaning there are no borders between additional modules.

"For decades, Samsung has lead the way in next-generation display innovation," said Jonghee Han, President of Visual Display Business at Samsung Electronics.



"Our Micro LED technology is at the forefront of the next screen revolution with intelligent, customizable displays that excel in every performance category. Samsung Micro LED has no boundaries, only endless possibilities."