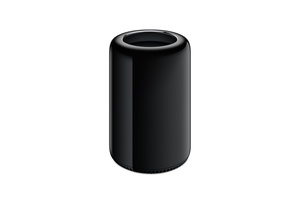 Apple analyst Ming-Chi Kuo is known for his iPhone analysis, which we
told you about yesterday
. However, the man has some insight on other devices as well, some of which we haven't seen in years.
According to the KGI Securities analyst, Apple is finally going to release and update to highly-anticipated Mac Pro,
The Verge reports
. The modular trash can Mac Pro (pictured), originally from 12 years ago and revamped in 2013, is going get new hardware and updated design.
To compliment the PC-like hardware of Mac Pro, Apple is supposedly introducing a new monitor as well. It's not certain if Apple will revive the Cinema Display brand, but it's said to be 31.6 inch display with 6K resolution.
Ming-Chi also expects new MacBook Pro models, which were last updated over two years ago. Perhaps a little surprisingly Apple is going to bring back larger MacBook Pros with 16 or 16.5 inch display.
It's been a while since Apple has supported such a large notebook. You might remember the 17-inch MacBook Pro that was sold between 2006 and 2012.
Likely some of these products, if not all, are revealed in Apple's World Wide Developer Conference (WWDC) in early June.