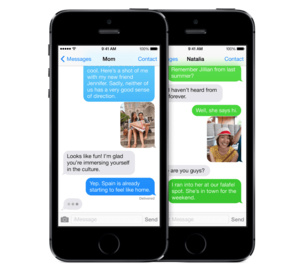 Android and iOS both have their pros and cons, there's really no objectively better solution for every person. However, there's one single reason above all others that makes it really hard for some people to switch between platforms.
That is of course iMessage, the bane (and boon) of every iPhone user, especially the ones that would like to try out Android. It's so nice inside the cozy iMessage ecosystem with blue bubbles and you'd never want to go out and experience the poisonous green bubbles.
Since there is no iMessage for Android, and rest assured there never will be one, third party developers have been trying to figure out a way to circumvent this for years.
Now there's finally been a public launch of an app, AirMessage, that promises to do just that. But there's a huge caveat that you could fit a Mac computer through.
Yes, you need a Mac. One that is powered up and ready to deliver you messages.
Essentially the Mac just works as a AirMessage server that delivers the iMessages to your Android device's AirMessage app.
If you really, really want iMessage on Android, this seems like a way to get there, albeit being fairly inconvenient. If you are still with us, there's probably no reason not to give it a try, especially since the developer promises that security is a top priority.
You'll find more information about the app and how to use it from the developer's
Reddit post
.