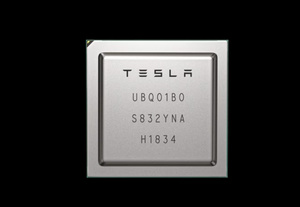 Yesterday Elon Musk
revealed his crazy pipe dream
or, as Tesla calls it, plan for the upcoming year. According to the company and its head honcho, Tesla vehicles should be able to drive completely autonomously no matter the conditions.
The company is also planning to bring robotaxis to the U.S. as soon as next year.

Much of this optimism is in large part due to the introduction of Tesla's first in-house chip. Previously Tesla has had to rely on semiconductor designers and manufacturer, including Nvidia, to build them a chips for self-driving purposes.

After investing heavily on their own design team, they've managed to replace self-driving chips in newly produced their cars to proprietary tech developed in-house. Tesla says that Model S, Model X, and Model 3 units that are being built now already have the first Tesla chip.



The switch happened for the first two a month ago and for Model 3 around 10 days ago. All of these new versions have the required tech for complete autonomous driving, the rest is just about software.

The next processor is in the development already, and according to Musk it's half way done already. The new chip should be "three times better", whatever that means in terms of complete self-driving capabilities.

Musk and Tesla don't exactly have the best record in setting goals, but they sure are making steady improvements to their vehicles. It would be extraordinary if they manage to even demo full-fledged autonomous Tesla in a year.