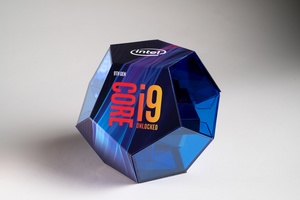 Intel has finally revealed their new 9th generation Core processors for laptops. The H-Series includes six 45-watt mobile processors built with 14 nm process.
The top of the line H-Series processor is the new Core i9-9980HK, which has eight cores, 16 threads, support Hyper-Threading, 16 MB L3 cache, and up to 4.9 GHz Turbo Boost with 2.4 GHz base frequency. It also has the Intel Thermal Velocity Boost, included in i9 chips, which adds 100 MHz to Turbo clock.
The K comes from overclockable, of course, and you'll probably be able to push it well past the 5GHz mark. It is also the only K chip in the lineup, although according to
Anandtech
you might be able to overclock the i7-9850H.
The i9-9980H is fairly identical except for the lower Turbo Boost of 4.7 GHz, base clock of 2.3 GHz, and no overclocking support.
The six-core and 12 thread i7 chips (i7-9850H and i7-9750H) have 12 MB L3 cache and base clock of 2.6 GHz. They will Turbo up to 4.6 and 4.5 GHz respectively.
The cheapest new H-Series chips are i5-9300H and i5-9400H, and you'll only get four cores with 8 threads and more modest 8 MB L3 cache. Clock speeds are 2.4 GHz/4.1 GHz and 2.4 GHz/4.3 GHz respectively.
According to Intel the new chips improve 4K video editing up to 54 percent compared to the previous generation from three years ago.