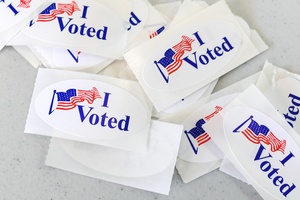 Everything is electronic, or smart, these days. Well, everything except voting it seems. For years upon years electronic voting has been suggested as the fix to all election problems, yet here we are with hackable voting machines and cries about rigged elections.
While electronic voting is becoming more popular, there are problems with both security and convenience. Microsoft agrees, and has introduced their own platform for elections, called ElectionGuard, at their Build 2019 conference to solve most of it.

The company promises that ElectionGuard is as secure and transparent as you would hope a voting platform to be. It has been working in partnership with multitude of voting system providers, including Democracy Live, Election Systems & Software, Hart InterCivic, BPro, MicroVote, and VotingWorks, and developed the software with Galois.

Microsoft has said the pilot programs kick off next year, just in time for the 2020 elections.

However, ElectionGuard isn't exactly a complete electronic voting system, more like a software platform to build the system on top of. It collects and handles the data that is fed to it from voting machines.



Microsoft has build it in open source which provides a great deal of transparency as well as opportunity for constructive critique. The company also says that it is compatible with current generation of voting machines, which makes it easy to deploy and use.

ElectionGuard SDK becomes available this summer on Github under MIT Open Source License.

According to Microsoft, ElectionGuard uses technology called homomorphic encryption, which allows the system to process the data without decrypting it. There's no way for Microsoft or the election administration to know what any individual voted.

Oh, and did we mention thanks to being fully open source it is also free, and everyone loves free stuff – especially when it comes to the government.