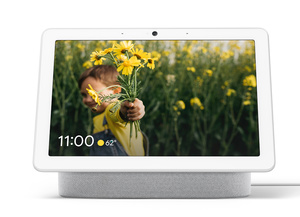 Google's 2014 acquisition of Nest for $3.2 billion hasn't turned out to be the most profitable of deals, as of yet at least. Now the search giant is trying to blow some additional wind to Nest's sails with some of their Google Home line of devices.
Yesterday at their annual Google I/O developer conference Google announced that they'll move Google Home Hub products under the umbrella of Nest. From now on Google Home Hub is called Google Nest Hub.

However, this doesn't seem to affect the smart speakers, Google Home and Google Home Max. Those still seem to retain their names. Perhaps new and upgraded smart speakers, if and when they'll arrive, will be renamed accordingly.

Nonetheless, not only did they rename some older devices, they also introduced a brand new Nest Hub Max. This new smart display is essentially a bigger and better version of Nest Hub (formerly Google Home Hub).

Instead of a 7-inch display it has a 10-inch one and it now comes with a camera that can be used for video calling with smart focusing and supports gesture controls, like pausing music by raising your hand up.



The camera also enables face recognition and multiple users. This means that walking up to the display it will recognize the user and show only information relevant and privy to that specific person.

As you might imagine from the new name, it also supports Nest Cam security camera features.

Nest Hub Max will be available this summer for $229. The price of the regular Nest Hub also was dropped to $129.